The Fifth Season/La Cinquième Saison – new highly acclaimed film with music composed by Eyeless In Gaza
(February 1st)

The Fifth Season/La Cinquième Saison is a new film by Peter Brosens and Jessica Woodworth featuring music by Eyeless In Gaza – 'Broken Bud, False Star: A Farewell for Phoebus'. The film starts out with beautiful scenes from a seemingly happy little village in Belgium, where the annual ceremony to drive the Winter away fails and then the Summer never arrives. Events and most people quickly turn for the worse. Many still scenes shows for a long time, expanding the sense of futility in the face of natural events. A lot of quite well-composed scenes gives the sense that the directors are acting as photographers or painters rather than film makers. The action is focused on a minimum of scenes and dialogue, which makes the film comes across as a cut-up collage of photos with music, but still enough to make a story. The music supplied by Eyeless In Gaza fits very well and is used very successfully in adding drama to the events.

---

Orange Ice & Wax Crayons Cd re-release
(Updated February 2nd)

Orange Ice & Wax Crayons Cd, much sought after and long out of print compilation from 1992, has been re-released with partly new content on cat|sun records (October 14th). None of these songs has appeared on the regular Eyeless In Gaza albums. 'Formerly at Midnight', 'Red Letter Day' and 'Lovers Spit & Kiss' has never been released before. 'Egg-Box Mask' and 'Music for Playgrounds' were only available on a bonus 7" with the first 1000 copies of the vinyl version of the album (both were taken from the same session as for the first Kodak Ghosts Run Amok Ep in 1980). Available now directly from cat|sun.

Tracks: 1. Hours Grow, 2. What I Want to Know, 3. Ways of Rachel, 4. Streets Lamps n' Snow, 5. P.S. for Michael, 6. Formerly at Midnight, 7. Egg-Box Mask, 8. Great Ocean Liner, 9. Fear Clutches, 10. Red Letter Day, 11. Lovers Spit & Kiss, 12. Fever Pitch and Bite [mistakenly credited as Lovers Spit & Kiss], 13. Dogs Bark, 14. Stay, 15. Old Lime Quarry, 16. Music for Playgrounds.

The album has been given a postive review in Vital Weekly.


---

Eyeless In Gaza Ep/mini-album Butterfly Attitude released on Downwards
(Updated July 1st 2012)

Eyeless In Gaza just released Butterfly Attitude – a "sister album" to Everyone Feels Like a Stranger on the Downwards label (distributed by Veto) entitled Butterfly Attitude containing 5 new pieces on 12" vinyl (free Cd accompanies intial quatities, which contains 7 new pieces). It indeed sounds like the missing 1/3rd of Everyone Feels Like a Stranger.

Ambivalent Scale has SOLD OUT all copies (1 Cd copy at the moment still in stock)! Please try to order through an alternative source (not tried them myself, but what I found through a Google search on July 1st): Rough Trade; Norman Records; Boomkat; Chemical Records or order it directly from the distributor:

VINYL + CD edition: 5 track, 12 inch, full colour 12 inch sleeve, with full colour inner sleeve (multiple images + complete Butterfly Attitude lyrics) and centre labels, PLUS flat-pack 7 track full colour on body Cd, packaged within the 12 inch sleeve, shrink-wrapped.

CD edition: Flat-pack 7 track CD, full colour on body cd, shrink-wrapped.

Pressing comprises only a 500 run of each edition.

Song-list: Ep: A1. Fracture Track, A2. The Day Began, B1. You are Grace, B2. Dust, B3. Said Bitterly; Cd: 1. Fracture Track, 2. Dust, 3. The Day Began, 4. Reverie, 5. You are Grace, 6. Said Bitterly, 7. Desolate Hills.




---

Albums currently available from A-Scale
(Updated April 20th)

Albums available right now from A-Scale are these:
Eyeless In Gaza – Butterfly Attitude Cd, 1 signed copy, 2012 (£12)
Eyeless In Gaza – Orange Ice & Wax Crayons Cd re-release, 2012
Eyeless In Gaza – Everyone Feels Like a Stranger Cd, 2012
Eyeless In Gaza – Answer Song & Dance Cd, 2010
Eyeless In Gaza – Summer Salt & Subway Sun 1xCd, 2006 (same as released as part of the 2xCd, 3xCd box later)
Eyeless In Gaza – Plague of Years "best of" Cd, 2006
Eyeless In Gaza – No Noise: The Very Best of Eyeless In Gaza Cd, 2 copies, 2005
Eyeless In Gaza – Home Produce: Country Bizarre Cd, 2003
Eyeless In Gaza – Song of the Beautiful Wanton CDR ONLY with booklet & original sleeve artwork, 2000
Martyn Bates – Unsung Cd, 2012
Martyn Bates & Max Eastley – Transformation Songs CDR ONLY with some original artwork (signed), 2007
Martyn Bates as Migraine Inducers – Dissonance/Antagonistic Music 2xCd, 2007 (early experimental) (£14)
Martyn Bates as Migraine Inducers – Americas Dissonance Lp, 2007 (early experimental)
Martyn Bates – Your Jewled Footsteps "best of" Cd, 2006
Martyn Bates & Troum – To a Child Dancing in the Wind Cd, 2006
Martyn Bates – Mystery Seas (Shayo Edition) Cd, 1995/2006
48 Cameras – Right North 2xCd, 3 copies, 2012 (features "guest" appearances on 3 tracks with Martyn Bates & 1 track with Peter Becker also) (£15)
Martyn Bates could also on request create and sign CDRs of solo works unavailable elsewhere – all Cds would have some original artwork by Martyn Bates.

All albums are £10 except where noted + postage and packaging UK (£1), rest of Europe (£2) and outside Europe (£3). Americas Dissonance Lp cost extra for shipping depending on where you live (ask us). Send an () with your e-mail to receive a Paypal address to send the money to!

---

Join the mailing-list – learn about the news as they happen:
e-mail:
Become a friend of Eyeless In Gaza on Facebook.

| | | |
| --- | --- | --- |
| Eyeless In Gaza | | Martyn Bates |

Press Box – Photos & Press releases

All Yr Pages: A Performance Record

Ambivalent Scale Records – Catalogue, studio, contact address, information on what is available directly from A-Scale and order information.





Sound samples

A Map of the Stars in Summer
A Needle to North
The only Eyeless In Gaza song on this mini-album. A song full of energy.
Where Was the World
Another wonderful star-lit song by Martyn Bates. (2008)


Drumming the Beating Heart
Ill-Wind Blows
This is one of the songs on the album that focus on organ and it is very much at the heart of this album.
Lights of April
This is solemn happiness and such a perfect song.
Originally July 1982 (2008).


Pale Hands I Loved So Well
Sheer Cliffs
This is one piece that shows the originality of the improvisational pieces on this album.
Light Sliding
This is simply one of the strongest songs Eyeless In Gaza has ever recorded.
Originally June 1982 (2008).


Back from the Rains
Your Rich Sky
One of the sweeter songs on this album.
Scent on Evening Air
This is a very moody, somewhat improvisational piece seeming like it belonged on Drumming the Beating Heart.
Originally 1985 and 1983 (2008).


Photographs as Memories
Speech Rapid Fire
Nice song typical of the early period.
Faceless
One of the outstanding guitar based songs on the album.
Originally 1980 (2008)


Caught in Flux/The Eyes of Beautiful Losers
Continual
A dense and fierce track typical of early Eyeless In Gaza and a track they often performed live.
Still Air
One of the most wonderful songs of the early years showing the range of Martyn's singing.
Originally 1981 (2008)


Summer Salt & Subway Sun
Mixed Choir (edit)
New sonic textures and catchy rhythmics.
Whitening Rays (edit)
Wall of sound – a kaleidoscope of mental photographs from old and the imagined future. (2005)


Home Produce: Country Bizarre album – The Tago Mago recordings: remixed and expanded
No
A short example of the experimental flavour of the wild flowers of Eyeless In Gaza and Lol Coxhill coming together here. Originally recorded around 1981/82. (2003)



All Under the Leaves, the Leaves of Life
Struck like Jacob Marley
Guitars, guitars, guitars.
The Leaves of Life – Seven Virgins
My own favourite. The song shows Eyeless rare ability to make improvised/experimental music melodical. (1996)


How to find these albums? Send an order/request to A-Scale: () or try some webshops: Strange Fortune; Drone Records; Greatest Hits; Dark Holler; Shining Day; Beta-lactam Ring Records; NDN Records.

---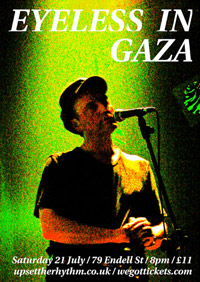 Eyeless In Gaza live in London on July 21
(Updated July 30th 2012)
Eyeless In Gaza performed live in London on Saturday July 21st, 20 pm at Upset the Rhythm, 79 Endell Street, London, WC2H 9DY (the Swiss Church). Price: £11.00.
For more information see the announcement at the organiser, Upset the Rythm and The Swiss Church in London.
The concert went very well and Eyeless In Gaza performed some great songs available on YouTube (thanks to Pedro García): Still Air, Inky Blue Sky, The Mountain Tomb, Reverie, All Yr Pages, Red Berries, Pearl and Pale, Among the Blue Flowers and the Yellow, Centrepiece, Voices, Keynote Inertia, The Apple Orchard, Morning Singing, The Decoration, Snow Rages, Desolate Hills, Sweet Life Longer, Corner of Dusk.
---
Eyeless In Gaza live in Paris on June 7
(Updated June 20th 2012)
Eyeless In Gaza gave a great performance at a well attended concert on Thursday June 7th, 20 pm. The venue was the Collège des Bernardins, grand auditorium. Garth Knox with his trio performed and then Eyeless In Gaza came on stage.
Their set included some of their old classics freshly approached and some new songs, some of which you can now hear on YouTube (thanks to Pedro García): No Noise; Still Air; Leaves are Dancing, Sweet Life Longer; Fracture Track; Inky Blue Sky and In the Desolate Hills.
---
FACT magazine interview with Martyn Bates of Eyeless In Gaza
(April 28th 2012)
FACT magazine just published an interesting interview with Martyn Bates of Eyeless In Gaza in connection with the release of the new Butterfly Attitude Ep and Everyone Feels Like a Stranger album.
---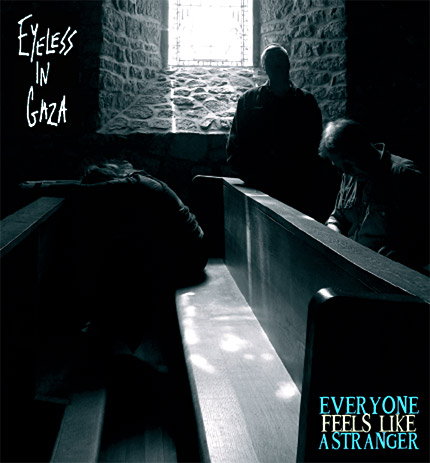 New album – Everyone Feels Like A Stranger OUT NOW Dec 21st, 2011
(Updated April 14th 2012)
Everyone Feels Like A Stranger (A-Scale 041) is the all new album by Eyeless In Gaza. The album is available for order right now from A-Scale! Send a message to indicating you want this album and we will send you a Paypal invoice for £11 (GBP) incl. shipping in the UK, £12 in the rest of Europe and £13 outside Europe. You do not need a Paypal account to pay.
"High on English folk/psychedelic textures, he and Peter Becker have come up with this collection of windswept, romantic songs, prickly as holly and sad as old Polaroids. […] After 32 years, this is a real career peak." – Uncut (May 2012)
"If you could imagine Midlake wrestling with Marc Almond, and Sufjan Stevens trying to pull them apart, then you would have a pretty good indication of how Everyone Feels Like A Stranger's opening trio of tracks sounds. […] an excellent song cycle" – Record Collector (March 2012)
The edition is limited to 1000 copies and as with other Eyeless In Gaza albums, we do not know when or if there will be more editions coming, so get it now. The album is song-focussed and the running time is 46 mins 52 secs. The 12 tracks are: 1. Voices, 2. Dance of Hours, 3. Much Wants More, 4. Morning Singing, 5. Seeing/Book of Days, 6. Among the Gathering Skies, 7. So You Appear, 8. Slow Eve, 9. Childhood Knives, 10. Dreaming Body, 11. If I Could Live as the Sun Does, 12. Endless Trees.
Dance of Hours, Childhood Knives and So You Appear have appeared in pre-view versions on radio programs and on YouTube, but have been perfected for the final release here. Morning Singing is a new take on the Martyn Bates solo classic from 1982, but since Eyeless In Gaza has performed this live as a band several times lately, this reflects how it is interpreted these days as a song by Eyeless In Gaza.
Martyn Bates writes about the new album:
Through the Summer of 2011 while we were putting together the tunes for Everyone Feels Like a Stranger, an unexpected pattern began to emerge. Clearly, as we were recording and completing pieces, much of this new work was showing a distinct prejudice /alignment to the form of songs, as opposed to instrumental explorations and improvisations, pictures without words. Now of course, all of the music we make has a story to it – much as we are all stories, because, well … that's all we have really: stories beautiful / terrifying / ecstatic / anecdotal / awake / asleep etc. etc. These particular song-stories all naturally feed into Eyeless In Gaza directly, and, as far as I'm concerned, the songs then go on to take on a life of their own.
That being said, I was already aware that these particular songs seemed to have arrived coloured with something that struck me as being particularly inward looking and reflective, for the most part. It was Peter Becker who first suggested that we title this album of songs Everyone Feels Like a Stranger – and initially I was unsure, as I felt that somehow this phrase ran the risk of conveying the 'wrong kind' of negative connotations. However, I see now that he was right. What we have here within these songs is a collective meditation upon the double-edged sense of exhilaration and closeness that can occur when one enters that peculiar state of mind and being that being alone can sometimes give.
Where to 'feel like a stranger' oddly brings about a wayward sense of subtle happiness or comfort. And where distance and separation somehow connect with a sudden elevation and insight, and link in with an unsettling sense of security within that isolation. Where being 'alone' takes on an almost religious intensity .Where you are connected to the Quiet, the calm, the silence. Where Everyone Feels Like a Stranger, true … but, at the same time, no-one ever feels like a dispassionate collaborator.
Dance of Hours – a YouTube film directed by David Black for Black Creative Limited with additional footage from Elizabeth Bates, recorded at Mont St. Michel out of the shores of Normandy in late August 2011.
My own initial reaction to Everyone Feels Like a Stranger – not as negative in mood as the title might suggest. This is an album that is hard to tell why one should hold in high esteem, but one should, because it is greater in some ways than previous albums. It shows a deep respect for the song format and that is at the core here. I might find more improvisational material more exciting, but here they really bring out the best of what is central to making music – melody/harmony, wonderful voice, thoughtfulness, inventiveness, atmosphere, colouring and all without sounding presumptuous, nor trying to live up to what others might regard as great, but rather define it. An album not to be missed!
Rising from the room, a sighing light is leaving and laughing … and you think it's you, sighing a sigh, inward-crying, crashing. Yr dreaming won't let you know – mad certain sure as though hiding, fever biting so … imbued with a meaning raw – no strength to see it all …stories of heart hidden, saying I will come to yr side I will speak now to you I'll draw close … and I'll find that someone is leaving you soon ....
---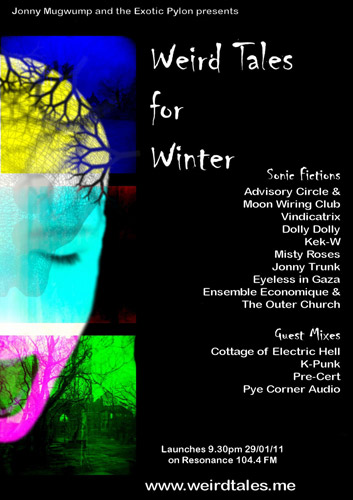 Eyeless In Gaza present one of the Weird Tales of Winter on February 2nd-3rd
(Updated February 4th 2011)
Eyeless In Gaza are presenting The Shadow by Hans Christian Andersen on the night of Februrary the 2nd (more exactly on February 3rd at 01:00). This is a presentation on the radio in the UK. This is part of a series of Weird Tales for the Winter that are being broadcast on Resonance Radio 104.4 fm. Each program from January 29th to February 5th is sent at 01:00 apart from the first 22:30 and last shows at 21:30. This program got rather popular when it ran last year and people have been downloading the stories a lot for a long time since then. (The website there is currently being refreshed to show the information for this years program.) Other contributors can be seen on their website soon and there is also a Facebook page. The broadcast is possible to listen to or download on the Weird Tales website.
---
Lawrence of Felt plays Martyn Bates on Domino radio + mentioned in new Felt book
(Updated April 14th)
Lawrence of Felt (and now Go-Kart Mozart) plays Martyn Bates and other music he listened to back in the 80's on Domino radio. Martyn Bates is also mentioned in the recent Felt: the Book (in the first preview pane Martyn Bates – Letters Written is listed).
---
Mythic Language/Egg Box Mask – new archive albums & lyric book – DELAYED
(Updated April 14th 2012)
Mythic Language/Egg Box Mask & November: Inky Blue Sky/Notes on Mythic Language is the title for the upcoming archive albums and book to be released by Ultra-Mail Prod. in Hong Kong. Pre-order availability will be announced here and in the news bulletin to those who have have signed up for it! This is the long-awaited archive release mostly containing material never before released. The project has been expanded to a big undertaking and now contains a 3-Cd set + book + 5" single. All material were completed before the Summer 2010, but there has been some production issues, etc. The release is expected in 2012. Exact release date remains unknown.
Mythic Language/Egg Box Mask 3-Cd set + November: Inky Blue Sky/Notes on Mythic Language book will be limited to 800 copies. All 800 copies will come with a thick paper box, thick Cd sleeves (similar to the Summer Salt & Subway Sun 3xCd box on Beta-lactam Ring Records).
The first 400 copies are signed and numbered insert by Eyeless In Gaza and will feature a different cover artwork, 120 page lyrics book, 3-Cd, special box with a unique original artwork for each box + an extra 5" vinyl single, which contain a special outtake recording. The remaining 400 copies comes with a differently designed box cover artwork, 120 page lyrics book, 3xCd.
Lyric book: 120 pages (size: 13.8 cm wide x 13.7 cm height), which is same size as the Cd sleeve. Inside: 157g matte paper, two colour printing (B/W + pantone grey). Cover: special paper with silver foil (no. 4 color printing).
Retail price: first 400 box set edition (with 5" vinyl): ? GBP (£). Retail price: last 400 box set edition: ? GBP (£)
Track listings:
Cd 1: Mythic Language (an eclectic mix of early Eyeless In Gaza recordings – experimental, plus studio recordings 1981-82, mostly)
1 All Echo/2 Lines of Flame/3 You, So Open/4 The Sun-Like-Gold/5 Mythic Language/6 Alms Houses/7 Old Hours, Slow Daybreak/8 Three Nights Running/9 See She Sells, on the Sea Shore, Shells/10 We Shade Our Eyes/11 Quiet Lustre/12 Prayerbook to the Quiet/13 Second Music/14 See the Dark Pools Flash/15 The Rain Dreaming Ship/16 Songs of Coming Winter/17 Autumn Mixes Its Colours/18 Song of a Man Who Has Come Through
Cd 2: Fixation (comprises live recordings by Eyeless In Gaza, 1980-1983 – this is the "noisy" hitherto UNHEARD-on record-side of Eyeless In Gaza's early work!)
1 In Flux/2 Blue Distance/3 Two Years On/4 Lines of Flame (slow version)/5 Sound Track/6 The Skeletal Framework/7 Struck Like Jacob Marley/8 Darker Portraits/9 Kiss Syntax/10 Pale Hand I Loved So Well/11 November, Silver and Dark/12 Forward Steps/13 Primary Colour/14 Palms/15 Urge (The Favourite Game)
Cd 3: Morningsinging (comprises solo recordings by Martyn Bates – mostly radio sessions, 1988-1993)
1 Bahnhofstrasse/2 Dove/3 Way to Blue/4 This Time/5 Came Here to Look You In the Eye/6 Sally Free and Easy/7 Twilight Turns to Amethyst/8 Morning Singing/9 Elegy News/10 For Love, Waiting to Die/11 Of Night Calling/12 Lean Out of the Window/13 Born and Beginning/14 Long Lankin/15 When You Praise Her
5" vinyl single: By Proxy
Side A : By Proxy (Kodak Ghosts E.P. Sessions outtake)
Side B: 1 Walk Away Detachment (studio recording circa 1982)/2 Snow Theme (studio recording circa 1994)
November: Inky Blue Sky & Notes on Mythic Language book(s)
The book accompanying Mythic Language archive set comprises two books in one – a 100 page book of "lyric fragment/xerox experiments, set up to mix word and image" – entitled November: Inky Blue Sky. The second book is a 20 page work entitled Notes on Mythic Language, which is another "experimental" work of a kind – in that it comprises autobiographical fragments/notes on writing/track details of the pieces on the box set/some of the lyrics from the album + hybrid interviews + one legitimate interview in full. Essentially, it's "a book about writing".
---
Eyeless In Gaza photos from 1980-81
(November 28th 2011)
Some nice very early live gigs footage has come to life on the web recently at this is then
---
The Wire to include a New Eyeless In Gaza song
(November 28th 2011)
The Wire music magazine issue in December 2011 will not include a complimentary Cd compilation as previously mentioned here, but the Cd is likely to come out with The Wire sometime next year. The new song 'Much Wants More' by Eyeless In Gaza was planned for this Cd. The Cd will showcase artists on Monotype Records / Cat|Sun, which will include Eyeless In Gaza in some manner next year. (Notice the bands mentioned on their front page.)
---
New short film – Dance of Hours
(September 29th 2011)
A short film by Elizabeth S. shot on location at Mont St Michel, August 2011.
---
Eyeless In Gaza recording documentary at Mont St. Michel, France
(September 4th 2011)
Eyeless In Gaza have spent a week on the famous island in France out of the shores of Normandy — Mont St. Michel. The french association Un soir dans la Manche invited Eyeless In Gaza to record a documentary film about the band. Martyn wrote before they took off: "The short term intention is to secure a concert at the Abbey on Mont St Michel. As far as I am aware, the occurence of a non secular concert event has never been permitted before at the Abbey — so this quite an oportunity, something unique. In the short term, we will be shooting a lot of performance material for the film — for which the band have been busily rehearsing over the past weeks. We also intend to use the event/week as an opportunity to write and prepare new material."
Martyn said when coming back from Mont St. Michel that the visit was "fantastic". Martyn says: "I feel that the film should be entitled 'A Twilight World' – the theme seemed to echo through all we did there: there was a general air of unreality that I loved. We filmed a vast amount of material, in various locations in and around MSM. Songs filmed included: Much Wants More/No Noise/And I Don't Know How It Will Be/All Yr Pages/Still Air/Whitening Rays/The Decoration/Centrepiece/The Mountain Tomb/So You Appear/Picture the Day/Snow Rages/Born and Beginning/All Under the Leaves, the Leaves of Life/Shorepoem/Morning Singing/The Panther/The Cherry Tree Carol/The Apple Orchard/She Moves Through the Fair/Beaten Gold/Keynote Inertia/One by One/Harps In Heaven/Gift/Dark's Chorus/Reedsong/Fracture Track/Others/Faceless/Song of the Wandering Aengus/Stealing Autumn/The Heart's Song/Red Berries/John of Patmos."
---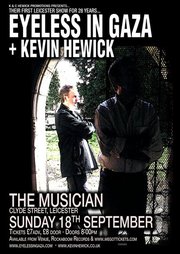 Eyeless In Gaza live in Leicester on Sept. 18
(Updated August 26th 2011)
Eyeless In Gaza performed live in Leicester on Sept. 18 at The Musician. It is £7 in advance or £8 at the door (20 pm). Acting support were Kevin Hewick, who performed together with Eyeless In Gaza a few times in the early 80's. Eyeless In Gaza played their first Leicester show since 1983.
---
Eyeless In Gaza on Kanali Ena radio, Athens, Greece, May 21st
(Updated June 13th 2011)
Eyeless In Gaza will have NEW songs played on the Kanali Ena radio in Greece on Saturday May 21st. The program is also available live through their website Kanali Ena 20:00-22:00 Athens (18:00-20:00 UK/GMT time; 19:00-21:00 central European time).
If you missed the show, the songs are available on YouTube: Dance of Hours, Dust, So You Appear, Likeness of Summer adn Childhood Knives.
---
Eyeless In Gaza – songs from a forthcoming album
(Updated March 4th 2011)
Free exclusive downloads of unique versions of two songs from the new Eyeless In Gaza album (no release date yet). The tracks were also aired on the recent Resonance Radio Session. Feel free to download or just listen to here on the website. (Click to listen or right-click to choose to download the tracks.) Photo above by Knut Koops.


So You Appear


Childhood Knives
A little YouTube presentation of the last of the two new songs.
---
Eyeless In Gaza on radio at Resonance Radio, February 26th
(Updated February 19th 2011)
Eyeless In Gaza will be featured in a radio session on Resonance Radio 104.4 fm at 9.30 - 11pm (GMT) on Saturday February 26th (among other things). There will be some new songs recorded for the event (early versions of tracks planned for a new upcoming album).
---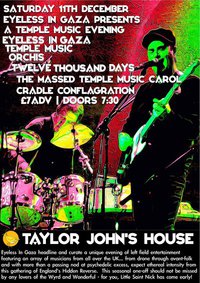 Eyeless In Gaza present a Temple Music evening at Taylor John's House in Coventry, UK on December 11th
(December 20th 2010)
Eyeless In Gaza present a Temple Music evening at Taylor John's House in Coventry, UK on December 11th. The night will present sets by Eyeless In Gaza, Temple Music, Orchis and Twelve Thousand Days. For tickets check out the Tin Angel website. It is £7 in advance or £9 at the door. Or look at the Facebook page.
It was a very nice evening at Taylor John's and the idea of an evening with music centering around Eyeless In Gaza worked out very well. There were first a long live improvisation by Temple Music, with some noisy electronics, but all sort of instrumentations weaved together to produce a quite intriguing sound voyage. After this we got a short, but very energetic, set by 12,000 Days, where they started out with the The Song of the Prophet – a song that builds so great from the start. They did a really good take on Dun Fox from their first album. (The old albums will soon be re-released again.) Then Orchis did a similar set, with some of their best tunes like He Walks in Winter and The Red of the Moon. Eyeless In Gaza took to the stage and delivered a very fine set of 12 songs, including seldom performed songs like Over the Waters, Voice from the Tracks and Dark Pools Flash. They all ended the evening together to perform one piece mostly improvisational with a drone of bells ringing for Christmas as end. Very nice evening, though few people had found their way to the venue this night (they joked that people had stayed at home to watch the X Factor final instead). I know many people wanted to come, but had problems getting there for reasons of weather and other things. Let us hope for similar events in the future and better chances for more people to come and experience the great music that these people can deliver on a night like this.
---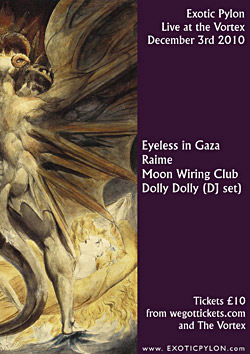 Eyeless In Gaza live at The Vortex in London, UK on December 3rd
(Updated December 6th 2010)
Eyeless In Gaza are making a rare London live gig appearance on Friday December 3rd – with the concert starting at 8pm, complete with two support acts. The Vortex Jazz Club, 11 Gillett Square, London N16 8AZ. Tickets are £10.
The gig went quite well and the venue was packed (no photos has surfaced yet). Read the fine review by Andy Wilson of the event!
Here's the set-list: The Decoration (Caught in Flux)/Dark Pools Flash (Mythic Language)/Morning Singing (Letters Written)/Light Sliding (Pale Hands I Loved So Well)/All Yr. Pages (Saw You in Reminding Pictures)/Still Air (Caught in Flux)/Snow Rages (Stars Come Trembling)/Voice From the Tracks (Caught in Flux)/Lilt of Music (Sun Bursts In)/Centrepiece (Mythic Language)/Shorepoem (Mystery Seas)/Over the Waters (Mystery Seas)/Leaves are Dancing (Rust Red September)/Fracture Track (All Under the Leaves, The Leaves of Life)/ encores: Mountain Tomb (Imagination Feels Like Poison)/Leaves of Life (All Under the Leaves, The Leaves of Life)
---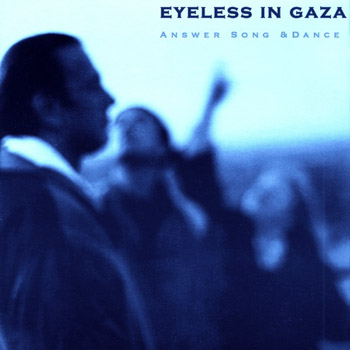 Answer Song & Dance
new album out – January 29th
(Updated May 11th 2010)
Answer Song & Dance Cd is a new album by Eyeless In Gaza that provides an overview of their current sound. It contains roughly 1/3 previously unreleased material and some hard to find songs. It was released on January 29th in Germany, Austria, Switzerland and Greece by Monopol Records. A-Scale has a limited number of signed copies available for sale at £11 (incl. postage). Send us an e-mail for payment information:
Track-list: 1 Wildcat Fights (regular shorter version)/2 Shorepoem (new Eyeless version)/3 First Blue Distance/4 The Keep/5 The 3-D Picture/6 Priests/7 Reedsong/8 Staring/9 To Cry Mercy/10 Summer Salt/11 Here, Friend of Mine/12 Brilliant Blue/13 Long Calling Summer
Read reviews of the album in three languages. The album is now also available through stores such as iTunes store, Amazon, 7digital, etc. in download form. At amazon.de, musicload.at and a few more places, you could also find the promo Cd extra version – Shorepoem (Radio Edit) (listen to excerpt) for sale (as well as the Martyn Bates original, which could be found elsewhere too). (The album is even available in my Swedish iTunes store for once.) The Cd with the nice booklet is mostly available from sellers in the mentioned countries above.
---
New interview with Eyeless In Gaza
(May 1st 2010)
Eyeless In Gaza: Writing is a manifestation of the psyche interview with Eyeless In Gaza in the Greece online magazine Mix Grill by Dimitris Antonopoulos. – Lots of interesting things to read there to stay afloat about what's going on chez Eyeless. There are also talks of upcoming gigs in Greece, but this will be announced separately here when and if it happens!
---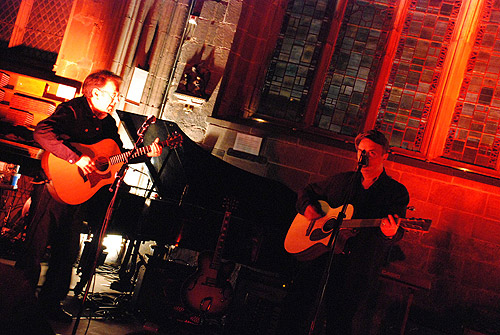 Eyeless In Gaza live in Coventry, UK, Feb 27th
(Updated March 4th 2010)
Eyeless In Gaza gave a concert in Coventry on Saturday 27th (20 pm) February, 2010 at St John's Church.
Eyeless In Gaza shared this evening with other fine artists: Baby Dee and The Cairo Gang. Baby Dee has been performing with bands like Current 93 and Anthony and the Johnsons.
For tickets (£10), see the listing at the Tin Angel website or directly from We Got Tickets.
The concert was brief, due to sharing the stage with two other bands, but quite successful and well received by a decently large audience. In the words of Martyn Bates: "This went very well – nice turnout of Eyeless In Gaza people/fans – and a FANTASTIC 'special' atmosphere there. – A good night."
The set-list: The Decoration/Priests/Lilt of Music/To Cry Mercy/Inky Blue Sky/Still Air/Snow Rages/All Yr Pages/Red Berries/The Mountain Tomb/Fracture Track. Photo: Declan Cusack.
---
Eyeless In Gaza live in Berlin
(Updated February 16th 2010)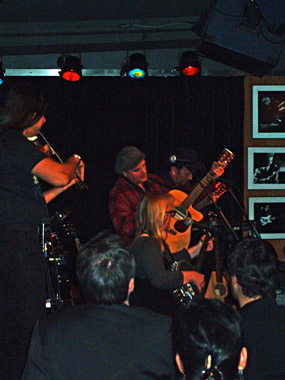 Eyeless In Gaza's concert in Berlin in early February, promoting their new Answer Song & Dance album, was a fantastic success with a packed A-Trane venue. This time the band was a 4-piece with violin player Damian Dudu.Poster (low-quality jpeg).
The set-list: SET1: Between These Dreams, Snow Rages, Red Berries, Lilt of Music, Still Air, Reedsong, Dark Chorus, Summer Salt, The Carnal & the Crane, Sweet Life Longer, Just After Sunset; SET 2: So You Appear, Shorepoem, Evening Music, Born and Beginning, Fracture Track, All Yr Pages, Guide This Night, Others, Wishing Songs, Sunset 1903, Inky Blue Sky, Cry Mercy, Leaves are Dancing, I'll Wrap Your Hopes; ENCORE 1: Centrepiece, Wildcat Fights; ENCORE 2: Down by the Sally Gardens, The Decoration, Priests. (Photo by Anne.) Other photos from the concert by Ian Land.
---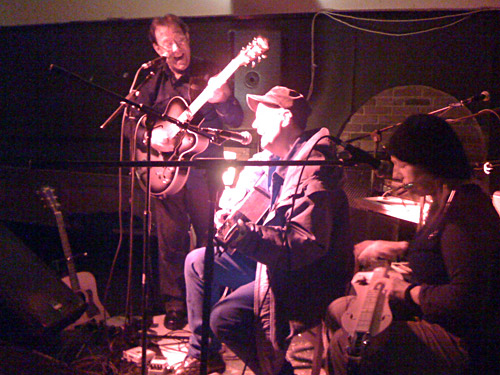 Eyeless In Gaza live gig in Coventry, England
(updated December 22nd 2009)
The concert Eyeless In Gaza gave this last friday before Christmas was a fantastic wonderful delivery of some of their best songs during the years, with a focus on newer material. They really feel at home with live concerts once again and they have not really lost any energy during all these years. They are still delivering the songs as if they were fighting to break through and with eagerness, concern, alertness, dexterity, precision, and earnestness. They sound as fresh, beautiful and interesting as ever. They still have more edge to the music than you will find nearly anywhere among musicians today. The energy is ever present, but controlled by experience and expertness in what they are doing. Though they are still exploring and still unafraid to improvise. Playfulness, energy and beauty are always there. It felt like an honor simply to be present there. People were captivated by Eyeless delivery this evening.
First was a short poem reading session with Elizabeth S. & Robin Stokoe backed by unusual "mythic" style soundscapes by Eyeless In Gaza (turn up the volume on 'Sun-Like-Gold' …). Then Eyeless played two sets + encore: first set: Snow Rages, Red Berries, Lilt of Music, Still Air, Reedsong, Dark Chorus, Summer Salt, The Carnal & the Crane, Sweet Life Longer, second set: So You Appear, Shorepoem, Evening Music, Born and Beginning, Fracture Track, All Yr Pages, Guide This Night, Rose Petal Knot, Others, Streets I Ran, Leaves are Dancing, I'll Wrap Your Hopes, encores: Centrepiece, Wildcat Fights. Only 'So You Appear' was all new to me myself, but several of the songs had I never heard performed live earlier. The best songs in my mind included: Red Berries, Reedsong – both on Martyn Bates's A Map of the Stars in Summer and Centrepiece (a piece that may turn up on the upcoming archive Cds planned for release in 2010).
Eyeless in Gaza performs live at Taylor John's House in Coventry on December 18th. Door opens at 7:30 pm. Tickets are available in advance right now for £7 through the Tin Angel website.
Martyn Bates comments: "Lots of water has passed under the bridge since those early WIRED Eyeless days, and I feel that we are still very much the same, perhaps with an even greater emphasis thesedays on the value of the song- form. One thing is nowadays there is experience and insight – sometimes. Plus I don't rip my voice to shreds anymore (yep, danger of nodes/doctor's advice)."
"Eyeless in Gaza camp are providing ALL the entertainment and live music this evening, essentially being "an evening of Eyeless in Gaza and friends" – which is to say, the support will be Eyeless/Martyn Bates releated poetry read by Elizabeth S. & Robin Stokoe (reading to Eyeless in Gaza music) + two sets by EYELESS IN GAZA. (Around 8 o'clock.)"
"We'll probably tailor the music to suit the venue – which probably means quite a bit of acoustic material."
"Elizabeth S joins us often now for some of the set – playing banjo, dulcimer, bits of percussion /harmonica/ melodica/ occasional keyboard + adding a third voice."
"Pete plans to play the drums however, so there will be some electric + a bit noisier stuff."
"It be will certainly be the first time Eyeless in Gaza have played in Coventry since 1981 – and only the SECOND time Eyeless in Gaza have played a gig on UK soil for 23 years(!!!!!!!!!!!!!!!!!!!!)"
---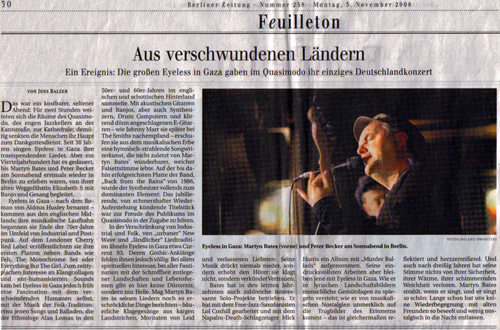 Eyeless In Gaza are back in the recording studio in Berlin
(August 6th 2009)
Following on from a successful gig at Berlin's Quasimodo Club last November (read the translated review from Berliner Zeitung), Eyeless In Gaza have just returned from recording at Berlin's famous Hansa Ton Studios (studio of Bowie's Low and Heroes, U2's Achtung Baby, etc. – Green Day recording there just prior to Eyeless entering the studio). The band have re-recorded 'Shorepoem', re-setting it in an Eyeless In Gaza styling, and are currently at work on an album for Monopol records, set for late September release. At present the album is intended for release in Germany, Austria, Switzerland and Greece, being designed primarily to offer an "overview" of some of the key aspects of Eyeless In Gaza's post-Cherry Red works, together with one third brand new material. Live performances are in the pipeline for September and November (contact ).
---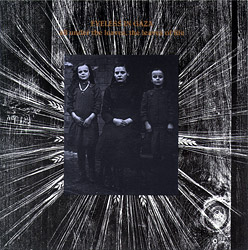 All Under the Leaves, the Leaves of Life re-release on Cherry Red with bonus tracks
(March 15th 2009)
All Under the Leaves, the Leaves of Life (July 1996), the now long sought after album, has finally been re-released on Cherry Red with an official release date of March 16th. Two extra tracks has been added to the album: the very nice 'Luscious Word (Lot's Wife)' (first appeared on the Feardrop: Lagrimás de miedo No. 6 compilation in 1999) and the previously unreleased 'The Carnal & The Crane'.
This album might have been the most popular album by Eyeless In Gaza since they resumed activities around 1992 after some solo ventures from 1987 up to then. The opening track is reminiscient of the Joy Division sound as its harshest and is then followed by a very varied yet cohesive set of tracks, including some stand-out pieces like: 'Struck Like Jacob Marley' (heavy electronic guitar work), 'The Leaves of Life – Seven Virgins' is a showcase of Eyeless unique capabilities in successfully merging very experimental and improvisational work into a lovely song, and 'Three Ships', which puts the listener out on a voyage of organ-based improvisational beauty, not unlike some of Terry Riley's more successful works. The album was rounded off by the amazing acoustic guitar piece 'As Was'. Read some of the reviews.
The album is available right now from Cherry Red (£9.95). It can also be bought as a download directly from iTunes store and other online music download shops, where you can choose to just buy the extra tracks in case you already have the original album.
---
YouTube video from January 20th – Eyeless In Gaza performs 'Fracture Track'
(March 17th 2009)
See Eyeless In Gaza perform 'Fracture Track' (from All Under the Leaves, the Leaves of Life) live Jan 20th, 2009 in London, UK. (This song was originally performed already back in 1981.) Also see 'Love is a Gift' (from Martyn Bates' Mystery Seas). (The only music videos ever made by Eyeless In Gaza are also available (legally, at least the first, which was the only one released at the time, 1982-83) – 'New Risen' & 'Veil Like Calm'.
---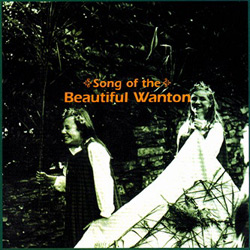 Song of the Beautiful Wanton limited rerelease on CDR
(November 16th 2008)
Following numerous requests received by A-Scale regarding this long deleted album, we are making a small run of an edition of this album, at an all inclusive price of £10 per copy (includes shipping worldwide).
This is a CDR edition, coming with a complete set of the original artwork (8 page booklet/rear & inlay artwork ). All copies are signed and inscribed by Martyn Bates & Peter Becker. Send an () with your e-mail to receive a Paypal address to send the money to! See also below for other titles currently available from A-Scale.
---
Dance cover of Eyeless In Gaza's first single by Helen Zachariah
(March 7th 2009)
Helen Zachariah has made a cover of Kodak Ghosts Run Amok (Eyeless first single from March 1980!). She has turned it into a funky dance tune. NDN Records has pressed it on high grade quality DJ vinyl and hope to reach out to DJs and dance floors all around. The Kodak Ghosts Run Amok 12" is available now directly from NDN Records. Tracks: Side 1: Extended Dance Remix; Side 2: A) Radio Edit Version, B) The Lost Mix. You can listen to the Radio Edit version on their website! I knew a successful DJ back in the 80's who DJed Eyeless songs with success, and now a track has truly been adapted for the dance floor, so it's time for replay on the dance floor of a great Eyeless tune!
---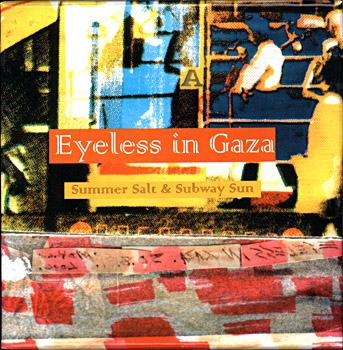 Summer Salt & Subway Sun Double Cd & Triple Cd – Out Now!
(Updated September 13th 2008)
Beta-lactam Ring Records released the new Eyeless In Gaza album on July 27th, 2008:
" […] a new brilliant collection of music by Eyeless In Gaza Summer Salt & Subway Sun and presented in a gorgeous full color Cd boxset. The first 400 copies are packaged in a deluxe full color hard bound box, lyric booklet and [includes also] the bonus album Wildcat Fights, numbered and signed insert." Mastered at Skye Masters.
There are two editions available directly from Beta-lactam Ring Records:
Summer Salt & Subway Sun triple Cd box ($40)
Summer Salt & Subway Sun double Cd ($20)
YES, Summer Salt is the same as the previously released Summer Salt & Subway Sun album (on Ambivalent Scale Recordings), which is now re-released (for better distribution) in companion with a new and previously UNRELEASED album – Subway Sun. To add something more of value to the album for those who already have bought the previous Summer Salt & Subway Sun, included with the first 400 copies is a bonus album – Wildcat Fights (a long single piece). A double vinyl version of the album will be available around mid to late October.
Subway Sun is a great new album. There are songs with classic organ playing, great electric guitar, wonderful singing, colourful improvisations and so much more … . You could listen to excerpts at the Beta-lactam pages – see the ordering links above!
Martyn Bates offers the following commentary on this huge set of recordings. "For me, one of the key impulses at work behind this set of recordings is an understanding of "The City", where individuals are clearly a microcosm within the macrocosm – a distinct sense of a 'person' as a player on a stage with activity going on below them, around them, above them and also within them. The feeling is of something at work that is always subterranean … a sense of the invisible machinations of men and Gods. This is evidently something material – namely, work being done in the here and now. It is an expression of something non-corporeal, however … of something bigger than 'spiritual', you might say. And yet it is holistic, and 'of the body' somehow. For me, this is a 'big picture' that makes perfect sense: this context of living, as a body and a sprit – where the THE CITY is resolutely an outward manifestation of the human psyche. This warming and awe inspiring thought was with me during the writing, arranging and recording of this mammoth set of recordings."
Track-listing:
1. Star Pool, Milky Way
2. All New
3. I Told You It Wouldn't Rain
4. Phantom Music
5. Zeal
6. One-legged
7. Broken
8. Antiphony Whispers
9. Song-like in the Dead Night
10. Five Songs
As this was not enough, Martyn let me know that: "Eyeless In Gaza have been working on new material, new recordings. And there's been a spate of new songs by me, mostly solo stuff." – So it is not like that they have emptied their musical pockets here!
---
Concerts by Eyeless In Gaza in Berlin and Barcelona
(Updated November 16th 2008)
The gig in Berlin was very successful with over 160 people in the audience at the jazz place Quasimodo. People came from Greece, England, Ireland, Belgium, Russia and many other places. Eyeless In Gaza also appeared on the Radio Eins to promote the event and played Reedsong/All Yr Pages/Dark Chorus.
Here is the set-list from the gig: Set 1: 1 Drumming the Beating Heart/2 Rose Petal Knot/3 To Cry Mercy/4 Picture the Day/5 Still Air/6 Keynote Inertia/7 Knives Replace Air/8 Harps in Heaven/9 Reedsong/10 Dark Chorus/11 All Yr Pages (My Lost Melody)/12 Morning Singing/13 Blue Distance (Fracture Track)/14 A Needle To North/15 Others/16 Leaves Are Dancing/17 Summer Salt
Set 2: 18 The Decoration/19 Snow Rages/20 Two/21 Transience Blues/22 Priests (new song)/23 Faceless/24 From A to B/25 The Mountain Tomb/26 Ebbing All The Years/27 The Apple Orchard/28 I'll Wrap Your Hopes; Encore 1: Back from the Rains; Encore 2: Evening Music. (Thanks Alain!)
The earlier announced concert in Barcelona, Spain has been rescheduled to first quarter of 2009! Sorry! More details later!
November 1st (10 pm) in Berlin, Germany. The venue is Quasimodo – see the details.
---
Eyeless In Gaza appear on Mojo magazine Leonard Cohen tribute Cd
(Updated November 16th 2008)
The December issue of Mojo magazine comes with a free Leonard Cohen tribute Cd. The issue is out now!
Martyn Bates says about Eyeless In Gaza's contribution of Priests: "For me personally it's as much a tribute to hideously overlooked Judy Collins Wildflowers, as much as it is a tribute to Leonard Cohen … altho it is indeed a strangely overlooked and rarely mentioned Cohen gem. It was an honour to sing this song."
1 Ian McCulloch – Suzanne
2 Katie Melua – In My Secret Life
3 Claudine Longet – Hey, That's No Way To Say Goodbye
4 Dion – Sisters of Mercy
5 Linda Thompson – Story of Isaac
6 Eyeless In Gaza – Priests
7 Allison Crowe – Joan of Arc
8 Susanna and the Magical Orchestra – Hallelujah
9 Nick Cave & The Bad Seeds – Avalanche
10 Josh Ritter – Chelsea Hotel No. 2
11 Phil Campbell – Take This Longing
12 Martha Wainwright – Tower of Song
13 Judy Collins – Song for Bernadette
14 The Handsome Family – Famous Blue Raincoat
15 Mr David Viner – Tonight Will be Fine
Priests is an exclusive recording for the Cd, recorded on the evening of Friday12th September 2008.
---
Eyeless In Gaza appear on the new Cherry Red singles box
(September 13th 2008)
I'll Give You My Heart, I'll Give You My Heart – The Cherry Red Singles Collection 1978-1983 (crcdbox4) contains 185 tracks from a long line of Cherry Red Records artists, including Eyeless In Gaza. Eyeless In Gaza appears with the following songs: Invisibility + Three Kittens + Plague of Years. (These pieces also appear on the Photographs as Memories Cd.) 8 Cds and write-ups from band members, including Martyn Bates! Price £ 49.95 (a bit ...).
---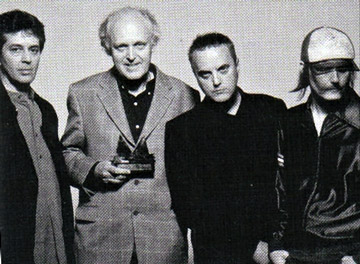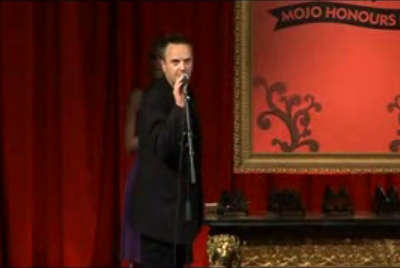 Mojo award to Eyeless In Gaza (as part of people behind the Cherry Red classic compilation Pillows & Prayers) !
(Updated August 19th 2008)
Martyn Bates from Eyeless In Gaza, together with Lawrence of Felt and Bid of The Monochrome Set was recently invited to a Mojo award ceremony to receive a price for the classic Cherry Red compilation Pillows & Prayers to which they all contributed. This album has recently been reissued in a new box by Cherry Red with additional material and comments. Read here the unedited comments by Eyeless In Gaza. Here are Martyn's comments on the event:
"I dunno … it was strange, with luminaries old and new present – some of whom I like their stuff, others definitely not! It felt natural enough to be there. – I knew that I belonged there right enough, but there was a definite 'air of unreality' present which permeated the whole endeavour. It was indeed crammed with music makers of a various stripe, so fuck it! Why not me in there with 'em !! i.e. Sex Pistols, Seasick Steve, Led Zeppelin, Jethro Tull, Arctic Monkeys, Duffy, Lemmy, Neil Diamond, Judy Collins, My Bloody Valentine, The Specials, Mark E Smith, John Cooper Clark, Paul Weller, Irma Thomas, Genesis, John Martyn, Julian Temple, Jazzy B, Toots Hibbert, Nick Cave ( + ?????? … ). It was nice to catch up with Bid and Lawrence after all this while. Also, believe it or not, it was a pleasure to meet Rat Scabies – who, despite ridiculous suspicions to the contrary turned out to be a real Gent."
You can see the relevant part of the ceremony here (YouTube video).
---
Remastered early Eyeless In Gaza albums released February 2008
(Updated February 9th 2008)
Cherry Red Records has just re-released the early Eyeless In Gaza albums: Photographs as Memories (1980-81); Caught in Flux (1981); the later Back from the Rains (1985), but most importantly Drumming the Beating Heart (1982) and Pale Hands I Loved So Well (1982).
Martyn Bates of Eyeless In Gaza give his views today on these albums: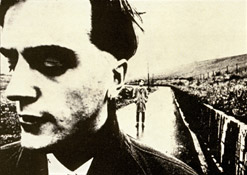 Photographs as Memories – originally released in January 1981
Eyeless in Gaza was always very much about capturing the process. Obviously Peter Becker and I weren't wet behind the ears by any stretch of the imagination. We'd both been in different kinds of bands, living/breathing music since our early teens, and we'd got plenty of burning ideas that we breathed into this new entity – arriving with the determination to do something different and fresh. We knew what we were doing – we'd learned enough of our art to risk the immediacy, the one-take approach to music. Punk's Year Zero was still resonating: the world was still new, and we were our own masters. These album sessions were snatched Friday night affairs, late evening sessions – grabbed at, cherished, thrilling stuff. Now when I listen to this album, I can hear quite clearly that it is the music of a voice finding itself. It's one hell of a fuck off to THEM, to all those asleep in hatred, each and every one of them asleep to the dream, and to any awakenings.

Caught in Flux/The Eyes of Beautiful Losers – originally released in September 1981
Seventeen songs here, frozen snapshots, experimentation/development: affirmation and joy. As the title indicates, perhaps more than any other early 'first phase' Eyeless in Gaza record, this one captures the exhilarating feeling of transition – the tumult of ideas/approaches: everything moving and consciously seeking ways to do things differently. Exploration, spirit – and no more procrastination than intuition allows.

Drumming the Beating Heart – originally released in July 1982
In hindsight, this album contains perhaps the richest examples of achievement reached by 'first phase' Eyeless in Gaza. We were still using our 'first thought' approach to recording and rehearsing, right enough – but, by this time, we'd honed the beast and were staring to control it the better. I remember we'd prepared a wealth of material, often developing it in gigs up and down the UK and all over Europe. Perhaps the secret in its strength is the luxury of time we had to compile the thing. We'd amassed so much material that we had to wait to release the stuff – which gave us the benefit of piecing the album together over time. This album might well be the one for which we are remembered by posterity – of the early stuff, anyway. This is rich, resonant music, full of colour – music that still screams the fuck out of much of the processed and industry driven/generated pap that the pop machine tries its best to foist on us in 2008.

Pale Hands I Loved So Well – originally released in June 1982
As I said, by 1982 we were producing so much high quality stuff that we had to resort to releasing this via a Cherry Red/Uniton hook-up. They were putting out things by the likes of Popul Vuh, so this was clearly a good move. This is our 'misunderstood' album, if you like … it tends to be one that people 'get' or not, as the case may be. Improvisation was always a massive part of Eyeless in Gaza's strength. Today, as I write, it's the songwriting that I'm personally most proud of – but I'd never deny this kind of joyous invention. This beautiful spontaneity is in my blood, and Pete Becker is some kind of genius when it comes to this form of creation (actually, he's 'got it going on' right across the board truth be told). This music is located tightly at the heart and soul of the band.

Back from the Rains – originally released in June 1986
In a very real and personal sense, this album was made when a kind of madness took me. By this time we were feeling frustrated that at the way we didn't seem to be getting across to a larger audience (as if EIG's attitude to music making encouraged a larger audience!) and there was a feeling that we should 'focus on our pop stuff'. Plus the fact that in mid-84 my father died unexpectedly. I reacted to this by not going into a depression and instead being filled with a manic sense that Eyeless should not be dark. As if we ever were 'dark'! Ridiculous idea! Anyway, we thankfully didn't manage to make our 100% 'pop' album. We had too much of a butterfly spirit about us to stay in one place for too long, and we ended up putting a bunch of acappella and impressionistic folky things on there. So things got balanced out nicely on what turned out to be the band's Cherry Red swan song, thank you very much!
On a final note, it's good to see all this glorious stuff out on Cherry Red again – especially in their brand spanking new remastered forms – for which, kudos and muchos thanks to Scott Davies. Cheers, Scott!
Especially Drumming the Beating Heart and Pale Hands I Loved So Well has received a much augmented sound from the previous disappointing CD release and for the first time since the mid-80's you can now listen to the albums as they were supposed to sound. Now, finally, I feel it should be possible to understand why Eyeless In Gaza was so popular and influential during the early 80's. The Cds lack the wonderful original sleeves of the vinyls, but the music is there, intact! Drumming the Beating Heart and Pale Hands I Loved So Well are also released on one disc, so a real bargain! The albums are available from most major webshops and also directly from Cherry Red.
Photographs as Memories is a dense, but lyrical album, with some of the most soulful post-punk tunes there ever was. This album explains so much about the mindset of young people listening a lot to independent/DIY type of music in the years 1979-1983. The only album that makes me think grey days in February and March could have some kind of wonderful atmosphere in them. Caught in Flux/The Eyes of Beautiful Losers was the slightly less harsh and more obviously beautiful album, which I believe to be the album that is the main reason Eyeless In Gaza subsequently enjoyed much success – for a while, at least. This album is very coherent and it shows its merits best when listened to from start to finish! This album is perfect to listen to while walking at dark in wintery/snowy landscapes, but also it is an early Spring album. Drumming the Beating Heart begins where Caught in Flux left off, but with a focus on church organ. This is almost defining the early 80's indie music and gained therefore also much appreciation. This album also looked forward to the more and more pop oriented way that the whole indie scene at the time hurriedly embraced. This still had nothing at all to do with mainstream pop and in many ways this was the peak of the early Eyeless In Gaza. As I see it, it is a cheerful, fresh album best enjoyed in Spring :-). Pale Hands I Loved So Well was released on a company in Norway that also had released Fra Lippo Lippi's first album In Silence (which was far superior to anything they subsequently did). Pale Hands is an album that showcases the best of the improvisational side of Eyeless In Gaza and which really sets them apart from their contemporaries, none of whom could really succeed at this. This album is wondrous to me even now after hundreds of listenings and I think one could say this is the only romantic experimental music album ever done – this is an essential album to listen to if you are interested in music at all. (In my mind this is still the most impressive album by the band.) After going more sweetly indie-pop with Rust Red September – also a great autumnal album, they finally released their stab at pop with Back from the Rains and toured Europe with Depeche Mode and was on their way to eternal fame in the world of the Music Establishment. It was still too honest an album to pave the way for true success and a dark cloud loomed above it indicating that these musicians may simply have too much integrity to just fall through into the music hall of fame like that. Back from the Rains is still a nice warm Summer album. Eyeless In Gaza some years later came back to their senses and back right on their own track again.
---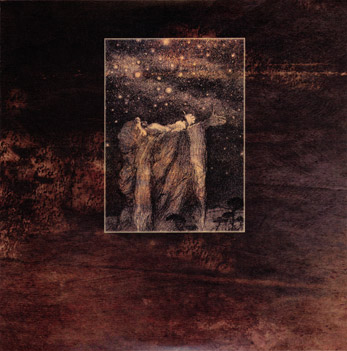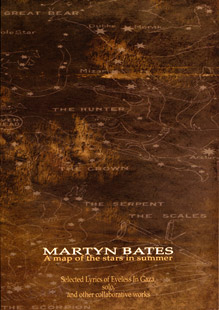 A Map of the Stars in Summer lyric book + Cd – Out Now!
(April 13th 2008)
A Map of the Stars in Summer – a new lyrics book by Martyn Bates – collects together mostly previously unpublished Martyn Bates & Eyeless In Gaza lyrics. (120 pages) It is accompanied with a Cd containing 5 new songs by Martyn Bates and also one new song by Eyeless In Gaza! Lyrics to the songs are found in the book.
Track-listing:
1. Reedsong (Elizabeth S./Martyn Bates)
2. Red Berries (Martyn Bates)
3. A Needle To North (Peter Becker/Martyn Bates) by Eyeless In Gaza
4. Fell Hill (Martyn Bates)
5. Start Where You Are (Martyn Bates)
6. Where Was the World (Martyn Bates)
This is a great mini-album by Martyn Bates & Eyeless In Gaza that is destined to become one of the more popular releases by Martyn Bates. Splendid full songs throughout, with Elizabeth S. joining in on banjo and voice. The Eyeless In Gaza piece is also a great song and would easily stand out on any album.
The book+Cd is available directly from the publisher. (Price: 26 €, incl. shipping worldwide.) Release date March 31, 2008.
---
Eyeless In Gaza – Concert in Spain October 27th
(Updated November 8th 2007)
The concert was very successful and the band played some new songs never played before. The set-list: All the Young Men/Cry Mercy/Monstrous Joy/Still Air/Snow Rages/Needle to North/Dust Alphabet/Fell Hill/Red Berries/Dark's Chorus/Throw a Shadow/Evening Music/Harps in Heaven
Eyeless In Gaza played live in northern Spain on October 27th at this year's Periferias festival in Huesca. The venue was the Palacio de los Deportes in Huesca.
Other artists that played at the festival included: Six Organs of Admittance, Larsen, Robin Williamson, Jenzo, The Waterboys, Thee, Stranded Horse, Andy Votel and others. Photo © Pedro García.
To receive announcements early on future concerts, join the .
---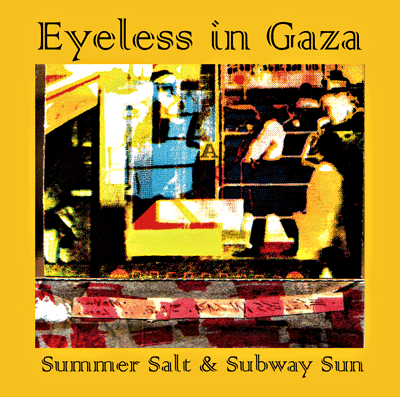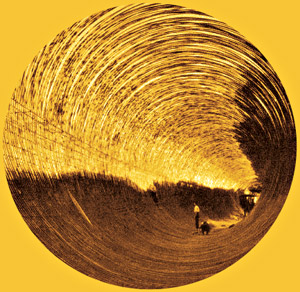 The long-awaited New Eyeless In Gaza album: Summer Salt & Subway Sun
(Updated August 9th 2007)
Summer Salt & Subway Sun was released on Ambivalent Scale Recordings on October 30th, 2006, Limited edition of 1000 hand-numbered copies). Buy here for 11 £ incl. shipping, through Paypal, from A-Scale! To order, click the button here (a Paypal account is not needed if you have a credit card).
Currently the only way to buy the album is through this Paypal link, so get it here now!
"People seem to be finally cottoning on to the fact that we've always included lots of different elements of so-called wyrd-folk in our music. It's strange – it seems to be everywhere in 2006 – it's like it's this season's lounge-core or something. That's why it seemed important for us at this point to put together an album full of loose sounding, noisy pieces and electric guitar stuff … ." – Martyn Bates
It's fair to say that the birth of Summer Salt & Subway Sun has proved to be amongst the most chequered in the 26 year history of Eyeless in Gaza, which was some three years in the making (following on from 2000's Song of the Beautiful Wanton and 2003's collaboration with Lol Coxhill, Country Bizarre).
Originally, the intention was to put together a double album, centering around an "escalated excitement with the idea of cities as new, blank texts – contrasted with the kind of sense of alienation and loss evoked in such works as J.G. Ballard's Concrete Island." The completed Summer Salt & Subway Sun works as a kind of survival or synthesis of these ideas – and also as an illustration of Eyeless In Gaza as 'studio animal', contrasted with their (newly re-discovered) life as a regularly gigging band. (– The band has been off the road since the late 80's, but have recently gigged in Bruxelles, London, and Athens – with forthcoming gigs in Italy, Iceland and the U.S.). The album thus neatly encapsulates two key aspects of the music Eyeless in Gaza are presently creating – offering a balance of atmos/acoustic material and sprawling, rhythmic/semi-improvised spidery electric pieces. This has resulted in a heady blend of song based material juxtaposed with a distinctive brand of kaleidoscopic, "cityscaping" filmic musics. Perhaps unsurprisingly, it is the latter, primarily instrumental pieces which gleefully reflect the band's recent activity in cinema – in Patrice Chereau's controversial Intimacy, and Jim Jarmusch collaborator Glen McQuaid's poetic, sub Hammer short, The Resurrection Apprentice.
After the plaudits attributed to the 25th Anniversary release of No Noise compilation ("They were one of the great bands that emerged (from the) post punk (period)" – Alan McGee) Eyeless In Gaza continue to display a characteristic "fierce independence" of style and attitude – with the release of Summer Salt & Subway Sun, issued via the band's own A-Scale label, at present only available directly from EyelessinGaza.com.
Track-list: Dust Box-Subway Sun/Whitening Rays/Mixed Choir/Summer Salt/The 3-D Picture/Before Beginning/Where Vivid Bloomed/Paper Aeroplanes/Antipathy Whispers/Ebbing All the Years/Ghost Blocks. Mastered at Skye Masters.
Reviews of the album and Jerry's (webmaster) thoughts.
Earlier report: Work continues somewhat sporadically on this seemingly Herculean project, due in part to teething troubles with the new studio set-up. Recordings have been concluded for this album (finally!), with editing and mixing beginning this week. The genesis of this particular project, I think it's fair to say, is proving to be one the most chequered and 'peculiar' in the history of the band, as yet another sea-change is sensed at work within the music. It is beginning to feel like a single album again, and NOT a double, as last reported. This is principally due to the exciting nature of the concluding recording sessions, where inspiration and energy focussed upon a completely different strand of creativity. This resulted in the creation of several brand new songs and pieces, which will be developed to, it is hoped, eventually coalesce as an entirely separate set of recordings entitled Monster Field.
Even earlier report: February 2006 sees operations begin again – to assemble and complete this long awaited album, following a protracted studio refurbishment/overhaul at A-Scale. Presently, this work would seem to be taking on the shape of a double album – where one disc will focus on 'summer salt', and the other on 'subway sun'. These twin concepts neatly encapsulate two key aspects of the music Eyeless In Gaza are presently creating: a balance of atmos and acoustic based material and electric stuff. In several cases, aspects of recordings still need to be completed, mixed and neatly filed for consideration for inclusion. Much material has accrued, and as may be expected considering the time gone by since Beautiful Wanton and Country Bizarre: there is a huge backlog to be evaluated for selection. Initially, the album was set out to feature a "strong thread" running throughout – with new material angled so as to be readily reproduced in "live performance mode". The music itself, however, wanted to do "otherwise", and the original remit has long since outgrown its forlornly designated constraints. Pieces for consideration so far include: The Rock/Whitening Rays/Before Beginning/Miraculous Energies/Clanging Summer/Giant Deserts Stretch Below Us/Teeming Vistas. Expect an early Summer release for this long awaited album.
---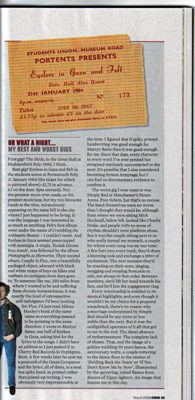 The Observer Music Monthly article by Simon Armitage
(August 17th 2008)
In The Observer Music Monthly, March 16th 2008, the highly respected poet and Booker Prize judge Simon Armitage talks about his musical tastes in a five page article and the best gig he ever attended – Eyeless In Gaza & Felt at the Students Union, Portsmouth Poly, 21 January 1984.
---
Article on Eyeless In Gaza & Martyn Bates in the April issue of The Wire
(April 21st 2007)
There is a prominently featured fine article on Eyeless In Gaza & Martyn Bates in the April, 2007 issue of The Wire. The Wire should be available in many press shops around the world, but otherwise you can contact them via their website. There is also a nice article on Terry Riley, who has been of some influence on Eyeless In Gaza. Now you can read the article here – Eyeless In Gaza – Patterns under the plough.
Other recent reviews on Eyeless In Gaza & Martyn Bates includes reviews of the recent overview albums of Eyeless In Gaza and Martyn Bates respectively on Sub Rosa at Terrascope Online.
Photo: Ivan Jones.
---
Björk has Eyeless In Gaza on her playlist & website
(Updated August 25th)
2009: Björk again featured Eyeless In Gaza on All Songs Considered on June 29, 2009.
From 2007: Björk now mentions Eyeless In Gaza prominently on her website (bjork.com) and has mentioned Eyeless In Gaza in at least one recent interview too. This has caused a big raise for interest in the Eyeless In Gaza MySpace site recently!
Björk published (Friday April 27, 2007) her playlist in the online version of The Guardian – Guardian Unlimited – and list Eyeless In Gaza's 'Throw a Shadow' from the Drumming the Beating Heart album. It is not surprising that Björk would listen to Eyeless In Gaza, given her musical background, but is surely nice to see her mention them! Maybe now is time to re-release this album and the Pale Hands I Loved So Well album separately and remastered? [Drumming the Beating Heart & Pale Hands I Loved So Well were remastered and re-released by Cherry Red in 2008.] Unfortunately now many of the most best-selling Eyeless In Gaza albums are out of stock – we hope this a temporary thing!
---

Sub Rosa Records releases new Eyeless In Gaza compilation: Plague of Years Out Now!
(Updated October 19th 2006)
Plague of Years (songs and instrumentals 1980-2006) (SR263) was released on October 15th by Sub Rosa. This is meant to act as a 'sister release' to No Noise, in that it features more of the 'improvised side' of Eyeless In Gaza's work. It includes a radically different mix of 'Mixed Choir', from the forthcoming Eyeless In Gaza album Summer Salt & Subway Sun. The release will be available via Ambivalent Scale. Track-list: Mock Sun (instrumental) (1994)/Reminding Pictures (1994)/Every Which Way (1981)/Mixed Choir (instrumental) (2005)/One by One (1982)/Before December (instrumental) (1980)/Fever Pitch and Bite (1981)/History Book (1995)/John of Patmos (1980)/See Red (1981)/Rose Petal Knot (1980)/Guide this Night (1995)/The Lovely Wanton (2001)/To Steven (instrumental) (1984)/Sun-Like-Gold (1984)/To Elizabeth S. (instrumental) (1984)/At Arms Length (1982)/Lights of April (1982)/To Cry Mercy (1995)/She Moves Thru The Fair (1985)/Falling Leaf -Fading Flower: Goodbye to Summer (1982).
(21 tracks, 77 minutes length, 8 pages deluxe digipack + full booklet with all lyrics & credits)
From the press release:
"This Cd deals with two sides of the group.
First is its deeply lyrical vein, with summits like See Red and Lights of April, tracks that have almost never been included on 'best-of' projects, despite the fact that they represent some of the most moving songs these musicians ever wrote.
This collection also explores the group's more adventurous side through a number of instrumental pieces. This aspect of their output is little known and often neglected, even though it was there from their very beginnings. These two combining currents, where experimentation precedes lyricism (and the other way around), turn this album into a truly new way of (re)discovering Eyeless In Gaza. This unique architecture creates the impression that each side strengthens the other one's presence.
Probably for the first time ever, the 21 tracks so redistributed provide the band with irrefutable arguments toward its rebirth. Yes, Eyeless In Gaza is one of the most underrated groups.
Let us hope these two CD siblings [the other one being the just previously released Your Jewled Footsteps (solo and collaboration works 1979-2006) (SR 257) by Martyn Bates] finally set the record straight. In this world of ours, will integrity finally pay off ?"
---
Eleventh Hour Announcement: Informal Performance featuring Pete Becker & Martyn Bates among others
(June 20th 2007)
Martyn & Pete have been invited to play a short set at the Temple Music gig on Saturday 16th June at St. Leonard's Chapel, Kirkstead, Woodhall Spa, Lincolnshire, England.
http://homepage.ntlworld.com/peter.fairweather/docs/StLeonards.htm
Here is a review from the event by Matthew Holder:
I was fortunate to be heading in the general direction of Lincolnshire at the weekend and managed to get to St Leonard's Chapel to see the Orchis / Eyeless / Temple music performances.
The set played by Martyn, Pete and Elizabeth S was as follows:
Still Air/Mountain Tomb/Dark's Chorus/Acapella 'Love is a gift, you brave sons and daughters' segued into Pearl and Pale/Lost Melody/I'll Wrap Your Hopes/You So Secret/Faceless/Down in Yon Forest/Snow Rages/Harps in Heaven
Just over 40 mins for their set.
The tiny chapel could probably cram in 80 people and was in the middle of a remote field amongst the grassy mounds and humps of the ruins of an abbey – quite an evocative setting. On the night it was mostly attended by local villagers – some elderly, some young, the local priest and friends and family of the performers – about 35 people. Martyn, Pete and Elizabeth S sang with no mike and as Martyn put it – just a little electricity to add volume to the guitar. The acoustics of the chapel allowed their voices to carry strongly and clearly. This ancient chapel seemed an appropriate setting for Eyeless songs which often seem to draw from both ancient and modern traditions and the religious and secular. By the end of their set it was heading towards dusk and the candles which provided the only lighting inside the chapel created just the right atmosphere as Temple Music played their piece in a shortened 25 minute performance. Alan Trench said by way of introduction that the full version could last for 1.5 hours. Martyn, Pete and Elizabeth sat and listened in the audience during the piece which started with sampled/electronically generated birdsong and developed around Djembe; Harp; Bowed Psaltry; Singing Bowls; electronics; Pump Organ; Bass and effects guitar which all built and shimmered in quite a mesmerising way. All in all an excellent evening, well received by those who would not normally be part of the Eyeless audience.
---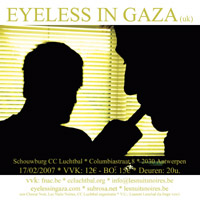 Eyeless In Gaza – Concert in Antwerpen, Belgium February 17
(Updated April 12th 2007)
The concert was very good according to people present at the concert. Unfortunately the turn-out was rather low.
Eyeless In Gaza gave a concert in Antwerpen, Belgium on Saturday the 17th of February 2007.

Address to the venue
Schouwburg Cultuurcentrum Luchtbal
Columbiastraat 8, 2030 Antwerpen
Website: http://www.ccluchtbal.org/ (tickets + more info)
Price: 12 € (in advance) 15 € (at the door)
(William Street is a support band for the night.)
---
Eyeless In Gaza – Concerts in Greece November 23-24
(November 20th 2006)
Eyeless In Gaza will perform live yet again. This time in Greece by the end of the month.

23rd November in Athens at Gagarin205
203-205 Liosion Street, 104 45 Athens
24th November in Thessaloniki at Mylos-Xylourgeion
56 Andr. Georgiou Street, 546 30 Thessaloniki
---

Sub Rosa Records releases new Martyn Bates compilation: Your Jewled Footsteps Out Now!
(Updated September 20th 2006)
Sub Rosa releases the first comprehensive overview of Martyn Bates solo oeuvre and key collaborations – Your Jewled Footsteps (solo and collaboration works 1979-2006) (SR 257). Release date: 15th September 2006. Track-list: Cut Like Sunset (1982) - from Letters Written/Shorepoem (1994) - from Mystery Seas/ I Cant Look For You (1996) - from Imagination Feels Like Poison/First and Last February (1989) - from Letters To A Scattered Family/The God On the Tree (1996) - from Imagination Feels Like Poison/Morning Singing (1982) - from Letters Written/Of That So Sweet Imprisonment (1996) - from Chamber Music II/Mirrored In Me (1982) - from Letters Written/Twilight Turns From Amethyst? (1994) - from Chamber Music I/Once Loved (2005) - by Twelve Thousand Days - from At The Landgate/Dissonance Excerpt (1979) - by Martyn Bates/Migraine Inducers - from Dissonance/Later War Cries (1990) - from Stars Come Trembling/Poems Pennyeach (2000) - from Dance of Hours/The Garden of Olives (1998) - by Martyn Bates & Anne Clark - from Just After Sunset (tho this track does not actually feature Anne)/No-one Spoke (1996) - from Imagination Feels Like Poison/Overflowing Look (1982) - from Letters Written/Cherry Tree Carol (1997) - by Martyn Bates & Max Eastley - from Transformation Songs/Once Blessed (2000) - from Dance of Hours/The Cruel Mother (1996) - by M.J. Harris & Martyn Bates - from Incest Songs (Murder Ballads, vol. 2)/The Dim and the Yellow Light … (2005) - from Leitmotif.
(20 tracks, 75 minutes length, 8 pages deluxe digipack + full booklet with all lyrics & credits)
From the press release:
"During those 20 years, against all odds, Bates managed to shape a unique, instantly recognizable form of music – that voice! – based on a deeply rooted, 100% English folk tradition. In our opinion, he is also greatly underrated as a songwriter. In his solo work and in EIG, he has developed what can be called a style: a combination of angst (a working-class hero) and pure melancholia (time irremediably lost, the loss of idealized love), mixed in with an unconditional love of poetry (Keats, Yeats, Joyce) and authentic popular song stylings. In other words, Martyn Bates belongs to a tradition that can be traced all the way back to the troubled times of the Elizabethan era. Your Jewled Footsteps journeys through made-in-England pop, folk, poetry recitation and reconstructions of songs whose origins are long forgotten. In addition to Bates' essential pieces, the collection also includes several previously unreleased tracks, including some pre-Industrial sound works predating EIG's formation, in the late '70s.
Please note that on the design front, we will be introducing a new series featuring the artist in his immediate surroundings (studio, home, street, city?), in the shape of a 8 pages digipack (presenting around 20 photographs) with separate booklet reproducing all the lyrics heard on the CD."
---
Martyn Bates – Concert in Geneva September 28th
(September 14th 2006)
Larsen, Baby Dee (recently toured with Current 93), Mir and Martyn Bates will share the night at Le KAB on September 28th in Geneva, Switzerland. Martyn Bates and Elizabeth S. plan to perform Twelve Thousand Days tunes, Monstrous Joy, and other songs never played live before. For more information visit: Le KAB.
---
At long last, various Ambivalent Scale recordings are to be made available directly via the Internet from the label itself – details later.
(September 14th 2006)
---

Eyeless In Gaza & Martyn Bates – Concerts in Brussels on June 9th & 10th 2006
(Updated September 14th 2006)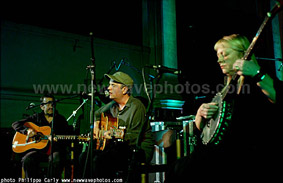 The concerts were a tremendous success in terms of the performance, atmosphere and nice supportive people attending the concerts. The organisers were a little disappointed by not having more than around 200 in the audience. Martyn and Pete were satisfied with the sound and their performance, which included many songs never performed before, like the new Voices and Summer Salt songs from the upcoming albums, Summer Salt & Subway Sun and Monster Field (tentative title).
First real Eyeless In Gaza concert outside England since 1986!!! If that is not enough, Martyn Bates will perform in solo capacity the night before at the same venue – a wonderful venue – 'Eglise Sainte-Catherine', one of the largest churches in Brussels. Book June 9-10 as the weekend you will visit Brussels this year if you do not enjoy living there already!
---
Dark Holler distribution
(February 9th 2006)
Dark Holler still have a few copies remaining from their distribution of the leftover stock of the Ambivalent Scale releases from the now defunct World Serpent label. These include Bitter Apples, Streets I Ran and Martyn Bates' solo Mystery Seas. Dark Holler have also re-issued Martyn Bates' Imagination Feels Like Poison album on the Hand/Eye label.
---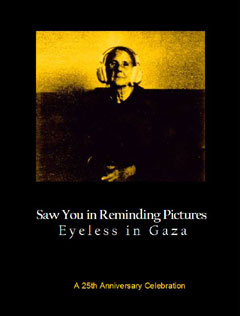 DVD release Saw You In Reminding Pictures
(Updated October 22nd 2005)
This DVD was released early August (officially on July 18th) by Cherry Red Records records and contains live video material – from 1982 and from last year's "secret gig" – and their old New Risen and Veil like Calm videos.
A review appeared in the October issue of Mojo magazine.
---
Online forum with an Eyeless In Gaza/Martyn Bates Performance Record and a place to leave comments
(October 22nd 2005)
All Yr Pages: A Performance Record – also a place to leave comments! If you have additional information or simply wants to comment on something, feel free to sign up and contribute!
---

Film music by Eyeless In Gaza in the recent The Resurrection Apprentice
(Updated October 22nd 2005)
Martyn Bates has written a score for the music of The Resurrection Apprentice, a short directed by filmmaker Dan McQuaid – colleague/collaborator of/with Larry Fassenden/Jim Jarmusch. The work was realised in tandem with Pete Becker – who played on several pieces, recording and engineering the work. It is now listed at the IMDB Movie database site. It premiered at the Fantasia Festival in Canada on July 20th 2005.
---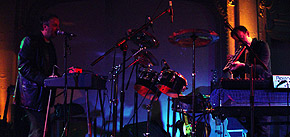 Review and photos of the London July 29th 2005 concert
(September 26th 2005)
Eyeless In Gaza gave a super concert to a very enthusiastic audience at Bush Hall venue in London. The event was video-filmed and there might be a DVD release coming later. They played many of their classic songs, like Rose Petal Knot, Back from the Rains, Corner of Dusk, but also newer and some never performed before pieces like Bitter Apples, Glow of Sight, Lullay My Liking. I have collected some fine photos from the event on a separate page and here are some more photos.
A review of the concert.
An Italian review of the concert. (There may be an english translation later on. Google Translation could be helpful.)
---
Martyn Bates concerts in Paris and Brussels
(September 24th 2005)
Martyn Bates gave exclusive live concerts near Brussels (Castle de Feluy (www.chateaudefeluy.be, August 27th) and Paris (Black Dog bar (www.blackdog-bar.com), August 28th). This was the first time Martyn performed in solo capcity in Europe since 1996. He was accompanied by Elizabeth S. and in Paris, Pete Becker joined in, making it a very special event!!! There is a burst of activities from Eyeless In Gaza these days and they again wish to reach out to people more than ever.

Not only this, but B'Eirth of In Gowan Ring played In Gowan Ring songs at these events. They sold a very limited Cdr Ep only at these concerts with exclusive material from both artists. These events were organised by Shayo, www.shayo.ch.
---

No Noise – The Very Best of Eyeless In Gaza album
(Updated August 21st 2005)
From the Cherry Red presentation:
"Cherry Red signed the two piece synthesiser duo Eyeless In Gaza in 1980. Back then a cassette dropped through our letter box which was virtually the finished tape of their first, highly acclaimed, album 'Photographs as Memories'. So 25 years have now passed by and Cherry Red are proud to present 'No Noise – The Very Best of Eyeless In Gaza' (CDMRED 279), a fascinating collection which contains all the best Eyeless tracks over those years."
No Noise – The Very Best of Eyeless In Gaza was released on July 18th by Cherry Red Records records. Track-listing: 1. Bitter Apples (1995); 2. Kodak Ghosts Run Amok (1980); 3. Others (1981); 4. Harps in Heaven (1999); 5. Struck Like Jacob Marley (1986); 6. Tall and White Nettles (1982); 7. Among the Blue Flowers and the Yellow (1999); 8. Dreaming at Rain (1982); 9. Between These Dreams (1985); 10. Sunbursts In (1984); 11. She Tries on the Jewels (1993); 12. New Risen (1983); 13. Welcome Now (1985); 14. Point You (1981); 15. September Hills (1983); 16. Transience Blues (1982); 17. Looking Daggers (1980); 18. Drumming the Beating Heart (1983); 19. Veil Like Calm (1982); 20. Invisibility (1981); 21. Hunger Song (1994); 22. No Noise (1980).
---
Eyeless In Gaza – Concert in London July 29th 2005
(April 28th 2005)
Finally, Eyeless In Gaza are back performing live after more than a decade to celebrate the 25th Anniversary of Eyeless In Gaza. For more information and booking see the Bush Hall web site (Information now removed (2006)).
---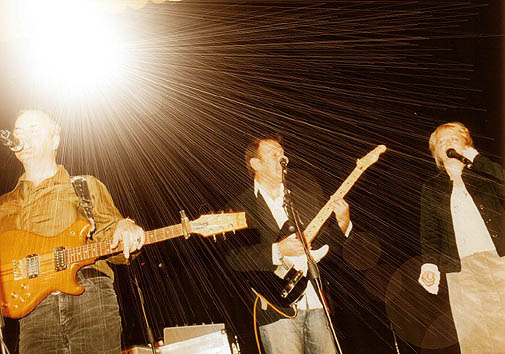 Eyeless In Gaza recent concert on Isle of Wight
(November 14th 2004)
On Saturday 6th Nov. 2004, Eyeless In Gaza reappeared on the live scene for the first time since 1993 and did a really great performance. In Ryde, Isle of Wight, Pete and Martyn played with a vigour and freshness one would not expect from a band formed back in 1980. They pulled off many old favourites like No Noise, Two, Others, Still Air, Leaves are Dancing, Pearl and Pale, Faceless and Back from the Rains. But they also did great versions of more recent outings like Slow Train, Saw You in Reminding Pictures, Bitter Apples and Less Sky. This band is not just doing some retro performances like so many other bands, but go ahead as if it was the first time they ever played these songs – and, well, several of the songs had never been performed live before.
The vitality of Eyeless In Gaza is still there as much as ever before. This was reassuring and hopes are up for more live gigs to follow. There exists some plans about a gig or two in London next year to commemorate the 25th anniversary of Eyeless In Gaza.
(This gig was a private party with invited guests only and that was the reason it was not announced beforehand. It was very well received by the guests.)
---
Eyeless In Gaza – Sonic History
(March 29th 2004)
Now available: a commented sound guide to the history of Eyeless In Gaza! 69 sound samples in mp3 (some more could be found here and on the Martyn Bates site). (Comments written by Jerry/webmaster.)
---
Eyeless In Gaza autobiography
(Updated February 14th 2005)
Martyn Bates is working on an autobiography of Eyeless In Gaza.
---

Home Produce: Country Bizarre album – The Tago Mago recordings: remixed and expanded Cd
(August 19th 2003)
The Home Produce: Country Bizarre album – The Tago Mago recordings: remixed and expanded Cd (NDN 37) by Eyeless In Gaza and Lol Coxhill was released on June 26th, 2003. The old Tago Mago recordings have been infused with new life and with additional new material! Originally the recordings were released on a cassette by the French Tago Mago label in 1982. Lol Coxhill performed on one half of the cassette and presented some fine (hilarious perhaps) saxophone improvisations and little tunes. Eyeless In Gaza recorded some of their most free improvisations to date, somewhat in the vein of their successful Pale Hands I Loved So Well album. Eyeless in Gaza's are sometimes very moody and dreamy, but there is no song on these pieces. Now Eyeless In Gaza has undertaken to try and fuse the Coxhill pieces with their own and on top of it add some new improvisations and tunes to exciting ends. If you knew the original pieces you are likely to be intrigued about whether they could possibly have managed to be successful in this attempt. These recordings show more of the underrepresented (in the released works) experimental nature of Eyeless In Gaza. It is recordings like these that help explain why Eyeless could produce such original works all the time.
Read more about the album and you can also order it directly at NDN Records for $15 plus postage (see their order info page).
Songs: 1) Echoes And Edward, 2) Fragment, 3) November, 4) The Vacant Pool, 5) They Come And The Go, In Shards Of Silver, 6) The Odd Fellow's Ball, 7) Creature Piece, 8) Little Suite I: B-Movie Prelude, 9) Little Suite II: Of Sorts, 10) Little Suite III: Silver, 11) Little Suite IV: B-Movie Prelude (Reprise), 12) Crêpe Paper Heart, 13) Rosary, 14) Echoes of Falmer, 15) Before December, 16) For Edward, 17) Mars Lighthouse I & II, 18) No, 19) An Odd Scent of Heaven, 20) End Theme.
A splendid review of Home Produce: Country Bizarre by Keith Moline appears in the The Wire magazine: issue 239 January 2004.
A new great review of Home Produce: Country Bizarre appears in the Winter 2003/2004 issue of the Ptolemaic Terrascope magazine.
---
Eyeless In Gaza song-list
(August 25th 2001)
You can now find an alphabetical listing of all published songs by Eyeless In Gaza (including a few pieces were they have made important contributions). Have a look at the Song-list!
---
Creature Box – Eyeless In Gaza & Tactile – Horse Startled by Lightning Cd
(Updated February 1st 1999/September 2nd 2007)
The Creature Box Cd is now complete and to be titled Horse Startled by Lightning or Three Strange Angels. It is unclear if it will be release anytime soon – I will be back with more definite information if/when I receive it. Martyn Bates says: " It's quite different from anything Eyeless have ever been involved in, to date … it's the sound of imploding stars/behemoth machines and radio static/primordial diamonds buried in dirt/ectoplasm all over the amplifiers/crumbling explosions … it's a noisy, untrammelled journey … I can safely say it's the most unhinged thing we've been involved in for a long time!"
Tracks: Snowsnake/Antipathy Whisper/I Told You, It Would Not Rain/Passion Flowers/Horse Startled by Lightning/Three Strange Angels/Song of A Man Who Has Come Through. ['Passion Flowers' was actually the name of a song Eyeless did very early in the 80ies. 'Song of a Man who has Come Through' was the name of a track first planned to be part of All Under the Leaves, the Leaves of Life – guess those songs have been quite changed here … .]
Earlier Martyn Bates wrote: "Last week [in March, 1998], Eyeless started work on our collaboration project with John Everall and Teresa Mills of Tactile … we completed a track for the sampler Cd that will relaunch Sentrax Records (via the US label Invisible initially, then it will be licensed into Europe …). We're embarking upon a collaboration Cd under the name Creature Box; essentially it's a vehicle for the hitherto hidden (in recent years) side of what Eyeless In Gaza do … something where a particular aspect of Peter Becker's fascination can focus, i.e. the drum machines/noise/"industrial" of things … somewhere that I personally can explore this side of my guitar playing technique … John and Teresa providing "hard-edged soundscapes" … check the Eyeless vs. Tactile track on the Tactile remix Cd [see below] for a pointer." Martyn now (June 16th, 1998) tells me that he and Pete "have practically finished the recordings" for the album and that the album is [was] planned to be released before the end of the year. Martyn adds that "it's been exhilarating – a chance to let off some steam."
For those who want to hear what they could expect from the Creature Box album – a compilation track has just been released. Title of the Creature Box track on the Sentrax Sampler Cd Interiors is 'Horse Startled by Lightning' – the Cd was released on June 16th, 1997 on Invisible (US)!
The Sentrax Records supremo John Everall and his project Tactile released an album Inscape some time ago. Sentrax Records later released an album Recurrence & Intervention of re-mixes of Tactile-tracks. Eyeless In Gaza contributed a track, 'Panoleptic', to this Tactile re-mix project. It was released in January 1997 and was reviewed in Wire magazine. It has been released in the US only, but one could in the past order it from the Sentrax Records homepage.
---

Saw You in Reminding Pictures – this Cd of more experimental/improvisational Eyeless In Gaza music will be re-released in a non-limited edition on A-Scale (ASR 017) at some time in the foreseeable future. Problems and delays due to circumstances beyond the control of A-Scale have meant that the release date for this project keeps being pushed back and back, but it will happen, in the fullness of time … . (It is not available at all right now.) (Updated April 3rd 1998)
It's now April 20th, 2013. News and articles are added every now and then, so be sure to check back or join the mailing-lists to ensure that you will get timely news.
– Jerry Nilson ()
(editor of these pages)
Comments, questions and suggestions are very welcome.
The crucial support from Martyn Bates is gratefully acknowledged!