Bron Area
NEWS! The Trees and the Villages is now available from Marz Imprints
Discography followed by a short biography from Glass Records (included with their Lp).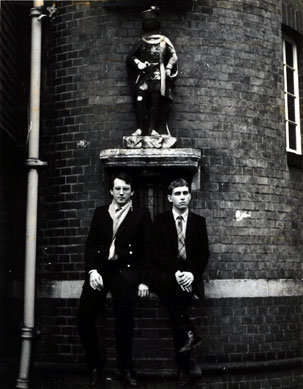 One Year (ASR 003, 1980, C45)
Part One: You'd be Amazed/The Long Dream/Unknown Friends/1977/Yes She Knows/Love Song/Images
Part Two: Sunday Morning/Walking/You'd be Amazed*/Swarm/The Car/1945*/Calling Michael/Genette*/Green Avenue/"Jazz"/Where is She Now?
Some songs included in part two are from our days as a duo. These have been reworked into the present set with a (*).
Steven Parker: Voice, Keyboards. Alain Royer: Guitar, Voice. Martin Packwood: Bass, Voice.
Recorded live and with Kev Harrison. Vocal on 'Calling Michael' by Isabelle. Saxophone (you'll be lucky) by Dave. Commentry on 'Where is She Now?' by John.
Bron Area began in March 1979 as a duo playing songs at small gigs mostly to friends. Steven had been playing piano for 4 years and sang in a punk band Addix through '77. Martin had played 'My Way' to drunks in social clubs on the organ for some time, and played punk R&B band Radiation One before joining Bron Area. The music from those days as a duo are summarised in part one.
Since then their music has become somewhat more agressive, and they have acquired a guitarist, Alain. He played in several bands in France until he moved to Brighton and was a founder member of The Squares. He then moved to Coventry and joined Bron Area after a jam. The music of this period is catalogued in part two.
---
Fragile Sentences (ASR 012, 1981, Ep 7")
Fragile Sentences – Green Avenue/The Unfortunate Reply/System
Steven Parker: Vocals, Keyboards, Recorder. Martin Packwood: Bass, Vocals, Recorder.
Recorded at Woodbine Street in Nov/Dec 1980. Produced by Bron Area and John Rivers.
---
Different Phrases (Glass 012, 1982, 12")
Different Phrases/You Would be Amazed/Dancing
Martin Packwood: Vocals, Bass, Keyboards. Steven Parker: Vocals, Keyboards.
Help from: Steven Bialik: Saxophone. Christopher Dunne: Drums.
---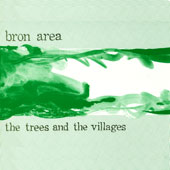 The Trees and the Villages (Glalp 5, 1983, Lp)
Les Arbes/Love Stories/As Midday Screams/This Year/Dancing/Sometimes in Water .../Caught then Drowned Affection/Elegy to Innocence/Secret Places/In Victory/Separate Rooms
Martin Packwood, Steven Parker with help from: Chris Dunne: Drums. Steve Biolik: Saxophone, Liz Seal [Martyn Bates' wife]: Voice. John A Rivers and Jonathan dee: Studio.
---
Compilations
Facet 1 ( ?, 1981, C?/Magazine)
Drift Away/Fragile Sentences
The Wonderful World of Glass Volume One (Glass 010, 1981, Lp)
You Would be Amazed
---
Bron Area: A Biography
To start at the beginning: Bron Area started life as a duo in March 1979, emerging from an embryo of musicians in Nuneaton. Martin Packwood and Steven Parker had been involved in a number of these before meeting a wider and more competent group of musicians. Notably among these was Peter Becker who supported and encouraged them in the early stages of Bron Area. With the reorganization of The Reluctant Stereotypes, resulting in the departure of Martyn Bates and Chris Dunne (later to drum on all later Bron Area records) the former arrived at a Bron gig to be introduced to Peter and thus Eyeless In Gaza came into being. Ambivalent Scale Recordings was later established and saw the release of Bron Area's One Year cassette album and Fragile Sentences Ep as well as Eyeless In Gaza's Kodak Ghosts Run Amok Ep and Kevin Harrison's On Earth 2 cassette (later released as a Cherry Red album [remixed]). As Eyeless moved on to greater glory via their deal with Cherry Red Records, the momentum of Nuneaton's music scene diminished, Bron Area subdued their efforts somewhat until David Barker of Glass Records, having heard 2 songs from the Alternative Sounds fanzines compilation tape Facet 1 asked them to appear on his Wonderful World of Glass Vol. 1 Lp at the end of 1981. So impressed was Mr. Barker that on the strength of a recent demo tape Bron Area were signed to Glass at the beginning of 1982. The first vinyl was a 12" Ep entitled 'Different Phrases' released in March '82 and later released as a 7" on Posh Boy Records in the USA. Now, after the best part of 1982 being spent in the recording studio Bron Area's first album is ready. The album is The Trees and the Villages – a title which suggests the sentiments of their present music. Although not quite as described in Stringent Measures fanzine "a modern day country music … with a little organic additive" it does through different means seek to fulfill the same role as that music. Martin Packwood: "The album doesn't take risks, but I really don't see how any music could claim to do so. The only thing you risk in being avant garde is that no one is going to buy the record and listen to what you have to offer. People take risks in their lives – in their decisions, their lifestyles and so on – not when they listen to a record."